The power of customer feedback – part 2: Boost its efficiency!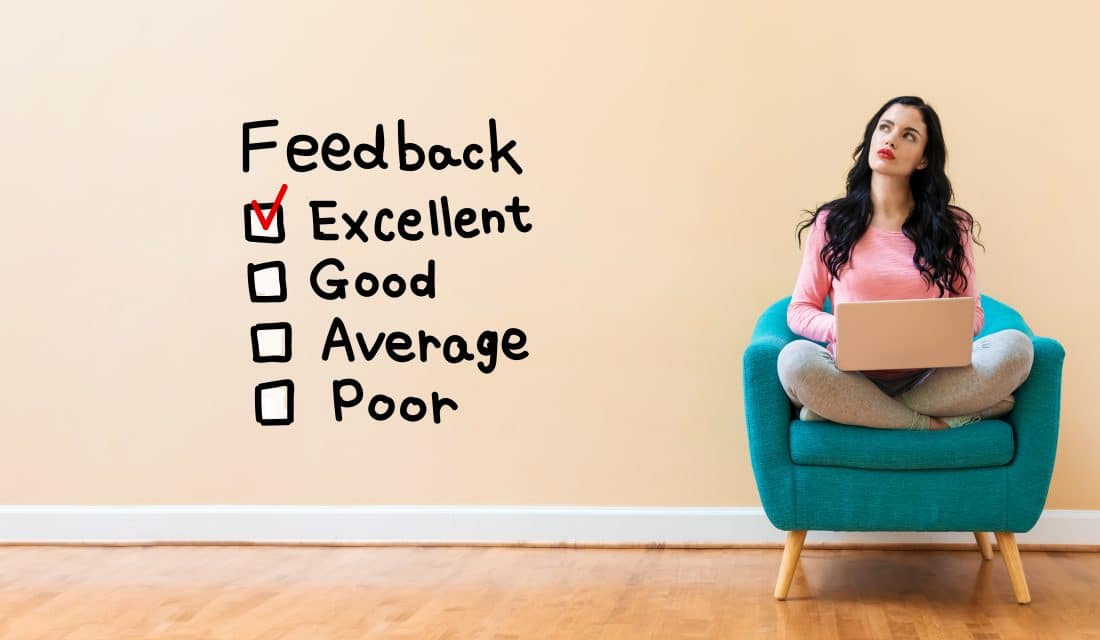 There aren't many things as important for business growth and positive customer experience as gathering customer feedback. It keeps customers from churning and brings you a much clearer idea of what drives your customer satisfaction. Listening to what your consumers have to say will boost your customer acquisition, increase their loyalty, and help you make the right business decisions.
You can read all about the perks of conducting customer feedback in the first part of our series on this topic. In this part, we'll outline the most effective way to measure customer satisfaction and walk you through the process of creating a truly efficient customer feedback survey. We'll sketch out some practical tips and customer feedback examples.
What's the most effective way to get customer feedback?
Online surveys! In the modern age, things need to be dealt with as quickly and efficiently as possible. Do you recall the strenuousness of filling out a paper questionnaire? Or how bothered you were when picking up a phone call initiated by "Would you mind answering a few questions for our research?"? And how about the frustration of being the questioner in those cases, dealing with impatient people and processing the collected data laboriously?
These inefficient ways are quickly becoming the past now that online surveys keep gaining popularity. Online questionnaires represent the ideal, smooth solution to better understand your customers, track their satisfaction and boost their engagement and loyalty. With the help of clever online survey platforms, such as Survio, the work gets done easier than one could imagine.
What are the ultimate options and possibilities when it comes to conducting a customer feedback survey? What are the absolute must-do things when building a customer feedback form? Let's look into it.
1. Asking the right customer feedback questions is the key to success
Every product or service should be created to fulfill its customers' needs and if you don't know what they are, you might not get it right. However, it's not always an easy task for consumers to provide information and constructive criticism. Therefore, it's your responsibility to create a thought provoking survey that will motivate the respondents to provide relevant feedback. Two main things are here to consider before you start formulating the very questions.
a) Who are you doing it for?
First of all, you have to make sure you know exactly who the consumers of your product or service are. Can you picture what they are like? Try to have a think and ask yourself these simple questions which might provide you with a different point of view when thinking about your business:
What is your customers' or users' day to day life like, their priorities and habits?
Are they end customers (B2C) or is it a company (B2B)?
What kind of problems do they deal with in relation to your business?
Why should they choose your product or service and not your competition's?
What can your business offer them that will make their life easier?
Will they solve their problem with what you can offer to them? How?
b) Why should your customers lean towards what you offer?
Second of all, you should dedicate a deep thought to what exactly it is that influences the quality of your business. What makes you better than your competition? Make sure you're clear in formulating what your success is based on. Is it:
your staff?
the speed and quality of your delivery system?
how clearly your website is arranged?
your prices?
how broad your sortiment is?
the quality of information you provide?
the purchasing process?
payment conditions?
the length of your procurement time?
Once you're clear about that, ask your customers or users about how satisfied with the individual aspects of what you offer they are. Also, do it as directly and to the point as possible. Then, use the gathered information to work hard on maintaining every single one of these aspects. Also, ask only questions that you necessarily need for making some sort of decision, don't add unnecessary content. People don't want to waste their time and might end up abandoning your survey.
Here are some good, to the point question examples:
How did the communication with the staff go?
How did the communication with the customer go? (B2B)
Was our service sufficient?
Did you feel well informed?
Did you know exactly what to do when you arrived to us?
Was the amount sufficient?
How did you find the delivery rate?
What do you think about the procurement time?
How did you like the food?
How would you rate the quality of our service?
Did the staff explain everything to you sufficiently?
How satisfied were you with the quality of…
2. Asking in the right way will boost your survey's effectiveness
Now that you've clearly outlined who your consumers are, the way you should approach them should be clearer to you too. We've already mentioned asking your questions as directly and clearly as possible so that there's no misunderstanding. But there's a few other aspects to consider:
a) What should your survey look like?
The way you construct your survey besides formulating the questions is a big dealbreaker, too. You don't want to lose your respondents' interest on a boring and non-appealing questionnaire, go too far or sound like you don't care enough. The demands on various surveys are, of course, individual. Different fields require different depths of asking. There's, however, always a line for what's too long and too short as well as too laborious, too nonchalant, too dull, too colourful, too serious etc. Choosing the right length, style and question types can help you get just what you need.
Here's what you should consider when it comes to the general style of your survey. Is it going to be:
rather long but providing a complex, detailed info?
rather short but punchy and impressive?
using star rating or NPS® with or without a short verbal feedback?
using rating like in school to gather simple data in simple values?
a one-time research or repeated on a regular basis?
Tip: Each question type provides a different output. Always think first about what it is you want to find out and what format you need the data in.
Also, consider the language you use, you don't want to sound too serious or too dishonest. Just like earlier in this article, imagine you're one of your respondents for a second and think about what would get your attention. Finally, don't forget to adjust the theme of your survey by e.g. setting up the right colour scheme, paying proper attention to the welcome and thank you page or adding your company logo to it. Anything that your respondents come in touch with which might push their minds towards filling it out or abandoning it is worth your full attention and a proper contemplation.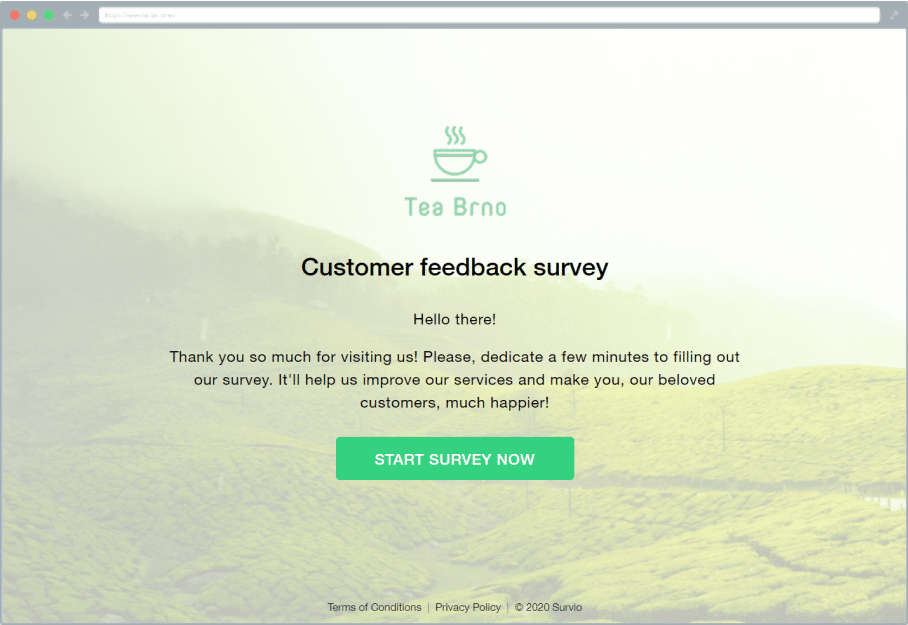 b) What occasion should a customer feedback survey be sent at?
Choosing the right opportunity to interact with your customers or users is priceless. Nurture them, show them you see them and that you care about their opinion. At any occasion. When should a customer feedback survey be conducted? Here are some typical examples of when and why a customer feedback survey should definitely not be omitted:
Measuring customer satisfaction after the consumers' direct interaction with your product or service (e.g. after their purchase in your e-shop, after their visit in your business premises, after using your service etc.) where the consumers evaluate their experience (UX) with it. It should be sent as soon as possible after the interaction – as long as they still remember it vividly.
Getting inspired before making changes in your product or service (e.g. broadening your sortiment, upgrading your service, relocation of the business premises etc.)
Getting feedback after some major changes were made (e.g. adding a new product, launching a new update of your software, extending your offer of services etc.).
Sending an exit survey when your users don't plan on extending the subscription in order to find out what the cause was, and finding a remedy.
Collecting regular feedback from customers or users in order to make them feel involved and let them take part in developing the product
3. Get it to people and engage them in taking part in it!
Once you've created a top notch survey it's essential to make sure it gets out there, someone finds it and will want to fill it out.
Here are some useful ways of how to get your survey amongst people:
Copy the link to your survey and send it via e-mail.
Use our delivery system where you can upload a CSV file or copy and paste multiple e-mail addresses which allows sending your survey link to many people at once. On top of that, you'll be able to identify who's received or opened the e-mail as well as opened or finished the survey.
Share your survey link on your social media accounts.
Embed the survey directly to your website's content.
Generate a QR code and use it either online or even offline, right in your business premises.
Print them out and distribute it in the form of paper questionnaires (the analysis will however have to be processed manually!).
As soon as your respondents find their way to your survey, you want to ensure that they will fill it out and not abandon it. It has to be appealing to them. Engage them, offer them a little incentive and lock their interest. If they feel motivated, they're more than twice as likely to complete your survey. How to get them motivated?
offer them a discount in your e-shop
involve them in a competition
enter their responses to a draw
prepare a prize for the first few of them who finish your survey
reveal the overall results for everyone who completes your questionnaire
Tip: However, make sure to keep the incentives on a reasonable level so that the responses don't get skewed. Read more on
How to get your respondents motivated
in another of our articles.
4. Use the gathered data and repeat the research!
Finally, after having built the perfect survey and succeeded with gathering lots of useful data, don't let it lie around for nothing. Use it!
Have you found out that something doesn't work properly? Fix it! Would your users appreciate an extra, special feature? Provide it! Would your customers like an article in your sortiment? Add it there! Do they not know what to do when using your service? Improve your customer education! The collected feedback data is there to guide you and can be used in so many useful ways, all leading to improving your business.
You can also consider it to be a benchmark for permanent changes as well as use it for customer segmentation. But most importantly, it is to show your consumers that their voices matter and thus increase their loyalty. After all, loyal customers are the best means for business growth! They're much more powerful and efficient than sales or marketing.
In the following article, we'll guide you through building your own customer feedback form, step by step, as well as provide you with a ready-made template. Stay tuned, follow us, ask questions, write notes and leave comments via Facebook, Twitter or by e-mail and don't miss out on anything!
Create your own questionnaire or survey for free
Setting up your first survey is quick and straight forward. Choose from one of 100 predefined templates or create your own from the scratch. Start getting your first responses in 5 minutes.
Create your own survey