Multi-user account – manage more accounts at once
Do you want to use Survio effectively and to the fullest? Do you want to arrange access to Survio for multiple people at once? Do you want to better integrate Survio into your business processes? We present to you a multi-user account solution that will help optimize costs and make better use of time for small companies, agencies or large corporations.
Get multiple individual user accounts under one roof (and one invoice), manage all accounts from one place, and keep track of the individual activities that take place on individual accounts. Thus, you have the entire process of purchasing and using the Survio platform under control.
In the individual chapters of this article, you will get acquainted with the necessary details for the operation of a multi-user account. The first part of the article deals with how you can practically use a multi-user account and the second part focuses on technical issues for individual functions.
Multi-user account for small and medium businesses
Are you a small team or a small company? The easiest way for you will be to provide access for 3-5 people. How to do it? Take a look at our price list for the "BUSINESS" solution. We have created a subscription called SMALL and MEDIUM just for you. The functions of the SMALL and MEDIUM subscriptions, which can then be used by individual users within a multi-user account, correspond to the functions of the highest ELITE package from the "PERSONAL" category.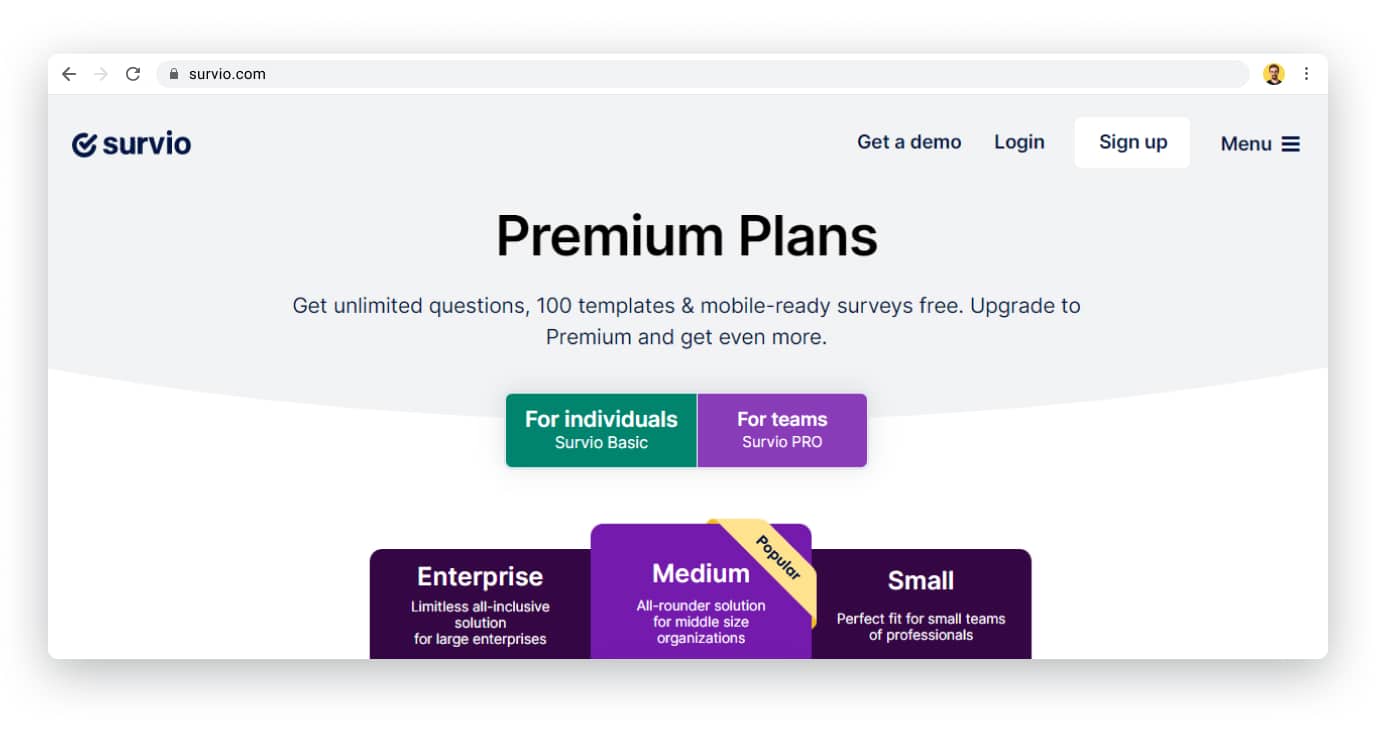 However, in addition to the discounted price for more users, you will get much more. A multi-user account allows you to:
invite or remove a new user (within the number of users purchased) using an e-mail invitation;
set different roles for users (Owner, Administrator, Editor);
monitor user activity (which is really useful when a problem occurs somewhere and you need to find the cause and the individual who might have made a mistake);
avoid sharing access data with more people, because each user logs in under their own account;
arrange everything in one payment and on one invoice.
You will find details on all these functions in the following chapters. Specifically, how can a small or medium business use a multi-user account?
Example: The Casserole company, which operates an e-shop for household goods, needs to find out information from customers and employees. The marketing specialist and the product specialist need to conduct surveys on customer satisfaction with the product and the range of products. The customer support representative needs feedback from customers on their services. The creator of the e-shop needs to regularly obtain information from customers whether the e-shop is user-friendly for them (for example, via a web widget from Survio directly on the e-shop). And the HR specialist, who has to take care of more than 20 employees in the company, would very much appreciate being able to obtain information about their satisfaction at the workplace using simple questionnaires. They do not have to have regular interviews with the employees then, which take up their valuable time. Everyone needs to use Survio for their own surveys. That is why the Casserole company purchased the MEDIUM subscription – a multi-user account with five accounts. That works through one payment and one invoice. The company was guided through the entire purchasing process by Jana from Survio, who takes care of such customers and provides them with the so-called DEMO – an online call, during which she will help explain all the details and provide advice on how to make the best use of Survio in a particular company. After half a year, the Casserole company found out that it needs to buy two more accounts. They contacted Jana, who prepared an individual tailor-made solution in a moment, the Casserole company paid for two additional accounts only for the rest of the year and could use 7 accounts from then on.
Multi-user account for large companies and other organizations
Do you want to involve, for example, 50 colleagues in a multi-user account? Or several whole teams within one corporate account? Or maybe all the teachers within the university or grammar school? Or all the doctors from one hospital? All this is possible. You have two options for doing so.
You will get a multi-user account with the required number of users. Each of the users registers themselves in Survio and creates an account (ordinary FREE version). You then send them an e-mail invitation from the Owner's main account, which each user confirms and their accounts become part of the multi-user account – that is, they can use all the features and benefits that are valid for a multi-user account.

You don't want each user to have to register themselves? Do you want users to log in only with the approved login details they already use within the company?

Get the ENTERPRISE subscription type within the "

BUSINESS

" subscription group.

It includes the Single Sign-On (SAML 2.0) function. You can set on your authentication server only for selected employees who will have access to Survio, what their role (rights) will be and what team they belong to. Employees can then log in with the company login details, they do not have to register in Survio. The site from which employees log in to Survio is tailored to the design of your company and contains your logo. The site is thus trustworthy for employees. So far, Survio only provides this feature to large companies as a tailor-made solution.
Not only for small, but especially for large companies, you will appreciate the ability to monitor the activities of individual users. Why?
Example: In the list of activities, you can see exactly who did what and when. No employee can then make excuses that someone deleted something from them. No employee can claim that they conducted the questionnaire survey a week ago, because it can be seen in the system that they created it 5 minutes before the meeting. The activities of employees on their accounts are thus transparent and it is easier to detect the cause of a problem or an error.
Another reason why large companies will appreciate the overview of activities on individual accounts is the following:
Example: A worldwide research agency has created a multi-user account for 300 of its employees. According to its plans and estimates, the agency determined that 300 people would really need the account. However, after some time of monitoring the activity on the accounts, it found that not all accounts are regularly used, only 280 accounts remained regularly used. After communicating with the branches, it found that not all employees have the time to work with the Survio platform as they are in charge of other work tasks. Therefore, the company purchased only 280 accounts for the next billing period. If the company did not have an overview of activities, it would never know that it can optimize the costs of using the Survio platform in this way.
Multi-user account for agencies, sole traders and their clients
Are you an agency and do you want to provide your clients with the best possible services? Get a multi-user account for your agency and send an e-mail invitation to your clients. Your clients do not have to take care of anything. You will include the price for arranging their account in Survio in the total price of your services. Set up the Editor role for your clients that allows them to work with their own account only. This way, your clients will not look at other accounts. This procedure, i.e. the provision of an account to clients, is in full compliance with Survio's business conditions.
Individual functions of a multi-user account under a microscope.
The following paragraphs and pictures will help you to get a concrete idea of how the tweaks that have been mentioned here so far work.
Seats system: number of seats for users within a multi-user account
In practice, the seats system can be compared to cinema seats. As a cinema goer, you can buy for example 10 tickets, and thus prepay 10 seats (10 accounts). These tickets are valid only for one program of your choice (ELITE subscription on the Survio platform). At the same time, it is entirely up to you whether you invite your colleagues, friends or customers to the cinema for these prepaid seats, or whether you leave them unused.
Subscription
Survio generally operates on a subscription basis. The subscription is divided into:
PERSONAL (MINI, STANDARD, ELITE)

Survio – focused mainly on B2C segments, micro-enterprises and sole traders

BUSINESS

(SMALL, MEDIUM, ENTERPRISE) Survio – focused on the B2B segment
In order to use a multi-user account, you need to upgrade to one of the Survio BUSINESS subscriptions. Explore the types of our subscription in our price list.
In addition to the default number of user accounts (seats), you can also purchase an unlimited number of other such accounts (seats). To do this, you need to contact our Customer Success team via the form directly from the Survio platform.
Thus, you can buy a subscription that will be tailored to you according to your own needs. You can edit:
The number of responses to the questionnaire
The number of e-mails sent
The composition of the available functionalities
Support availability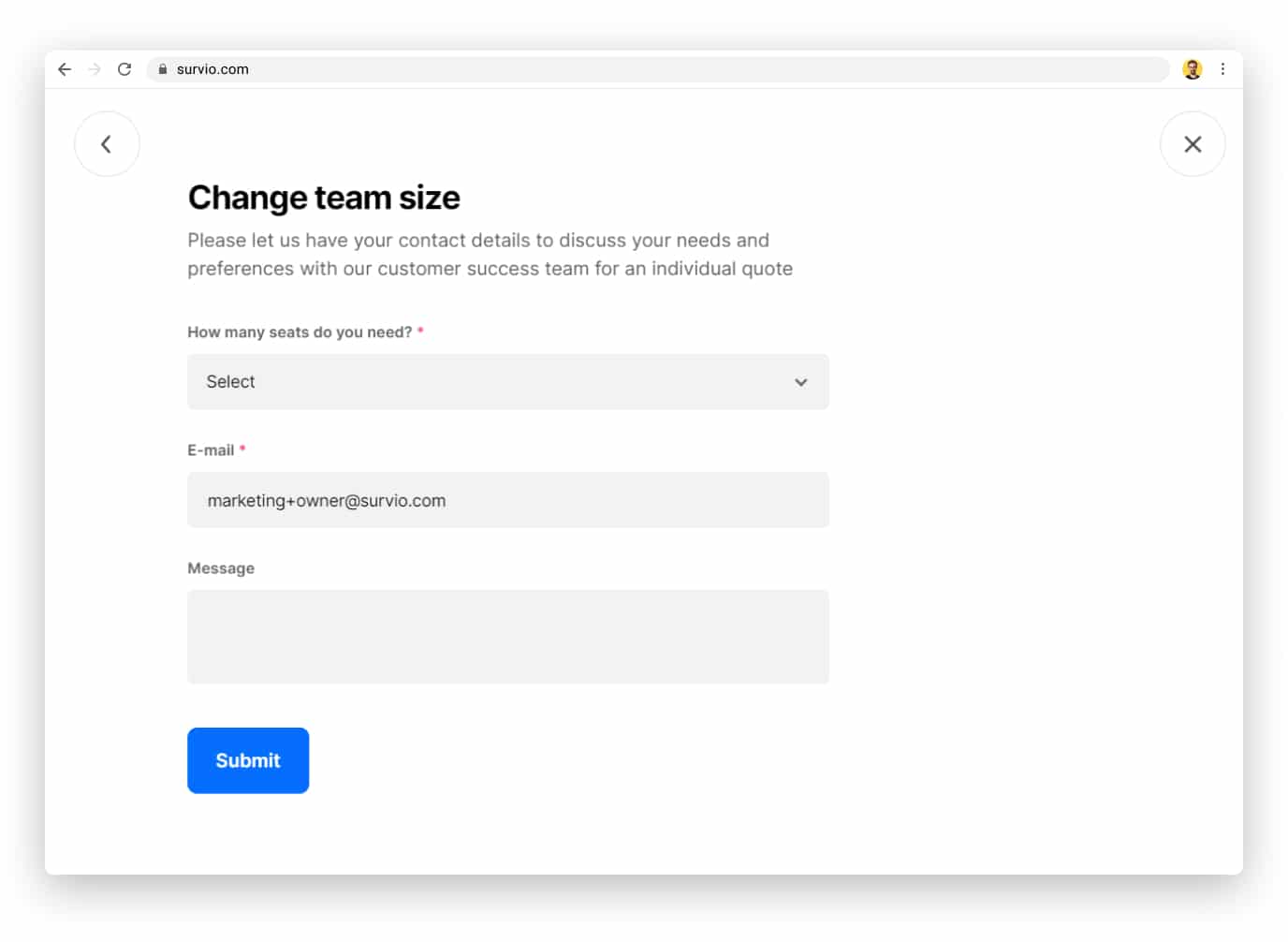 Invitations to a multi-user account
Once you have set up a multi-user account for your company in Survio, you can invite other users using a limited e-mail invitation directly from the app.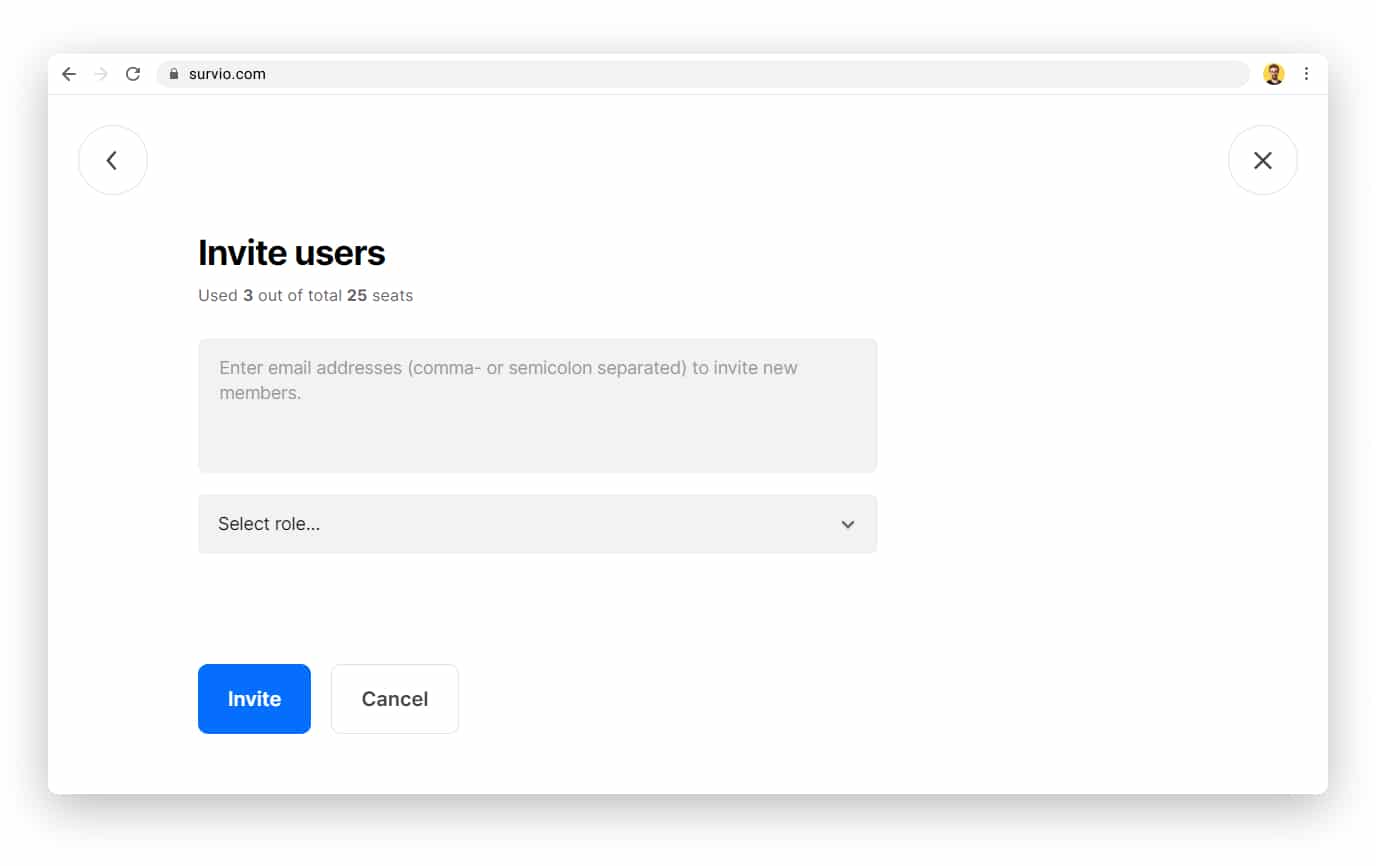 Your colleague or client must accept the invitation in the e-mail. Through the link in the invitation, they get to the Survio platform themselves and confirm that they want to join the team.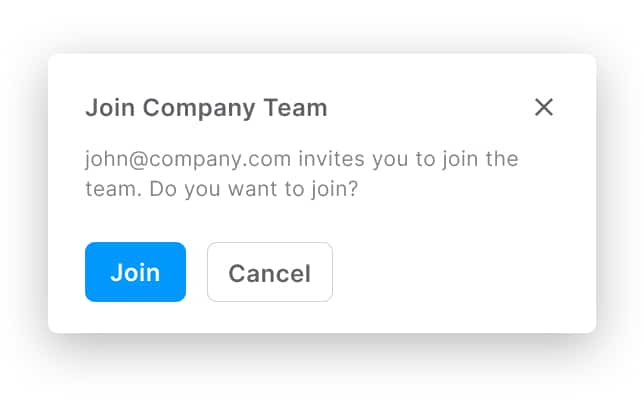 System of roles and rights for a multi-user account
All users are covered by the organization. The organization means a company/individual to whom Survio issues invoices for this service and who manages a user account with the pre-set role of the Owner.
A multi-user account contains three predefined user roles, each of which has different rights to access team settings and other services. A specific role is assigned to each of the invited users.
Editor
The Editor represents a regular user. Editors can create a questionnaire, share it, collect answers, and evaluate data.
Administrator
Unlike Editors, the Administrator has rights to team management (invite or deactivate a user, change their role, set the language for the entire multi-user account, etc.). Administrators also have access to invoices and see the type of subscription – but they can't change it.
Owner
The Owner has full access to all services and complete settings. Unlike Administrators, Owners can modify billing information and can purchase additional seats for new users or remove them.
Consolidated invoicing
For each billing period, Survio generates one invoice for the organization, which contains all user accounts, including the subscription. In practice, the organization receives one invoice and makes one payment.
The exception is the additional purchase of positions for team members (seats), when the organization pays a proportionate share of these new user accounts as of the date of renewal of the subscription. For this purpose, Survio generates an invoice separately.
Example: A company acquired Survio BUSINESS from 1 January 2021. The subscription is therefore purchased for one year, i.e. until 30 December 2022. However, on 1 March 2021, the company found that it needed to buy 5 more seats. In this case, another invoice is issued for these 5 new seats, the price is proportional for the rest of the year, in our case 10 months. From the next billing period, one invoice is issued, which also contains these 5 new seats.
The Owner can edit the billing information directly in Survio, the invoice will be issued based on this data. The changes are always valid for the upcoming billing period, so it is not possible to change an already issued invoice. Only the Owner is entitled to these changes. If you need to make a change to an existing invoice, you need to contact Survio platform support.
User profile
Each individual user manages their own credentials (excluding e-mail address) independently of their billing information. Thus, they can set a different language of the entire application on their own account (you will welcome it if you have branches abroad), they can change their password or they can click to subscribe to news by e-mail. Everything the user can change can be found on one page. Administrators and Owners can also manage user credentials across the organization.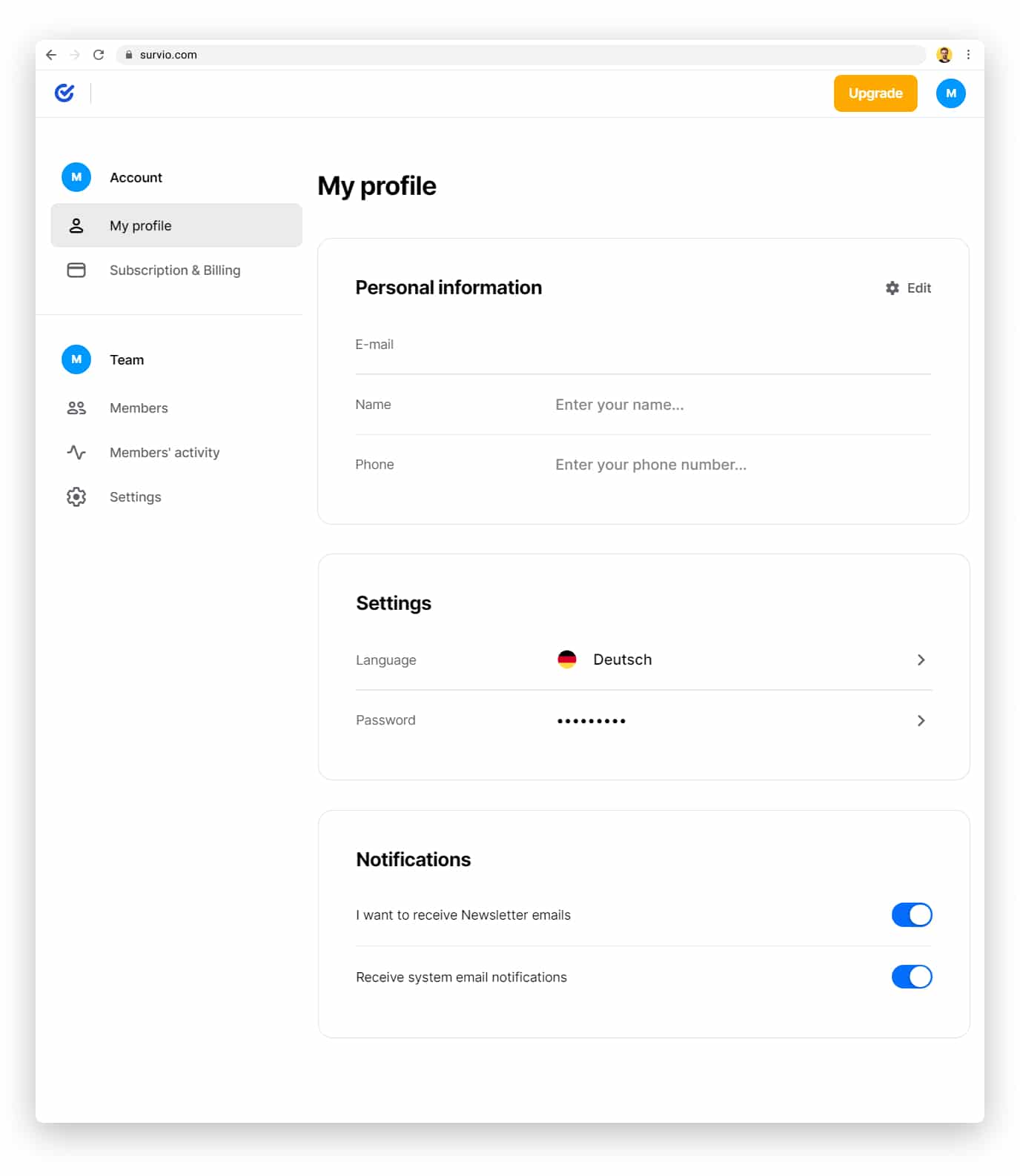 Overview of the activity of individual users
We know that efficiency is important to you. An overview of the activities of individual team members is available to make it clear who is using Survio within the team and how effectively. Owners and Administrators can view this overview. Thus, they see the entire history of members' activities and can filter these activities by time, event or specific member. Thanks to this overview, it is also easy to find the cause of a potential problem when working with questionnaires and data.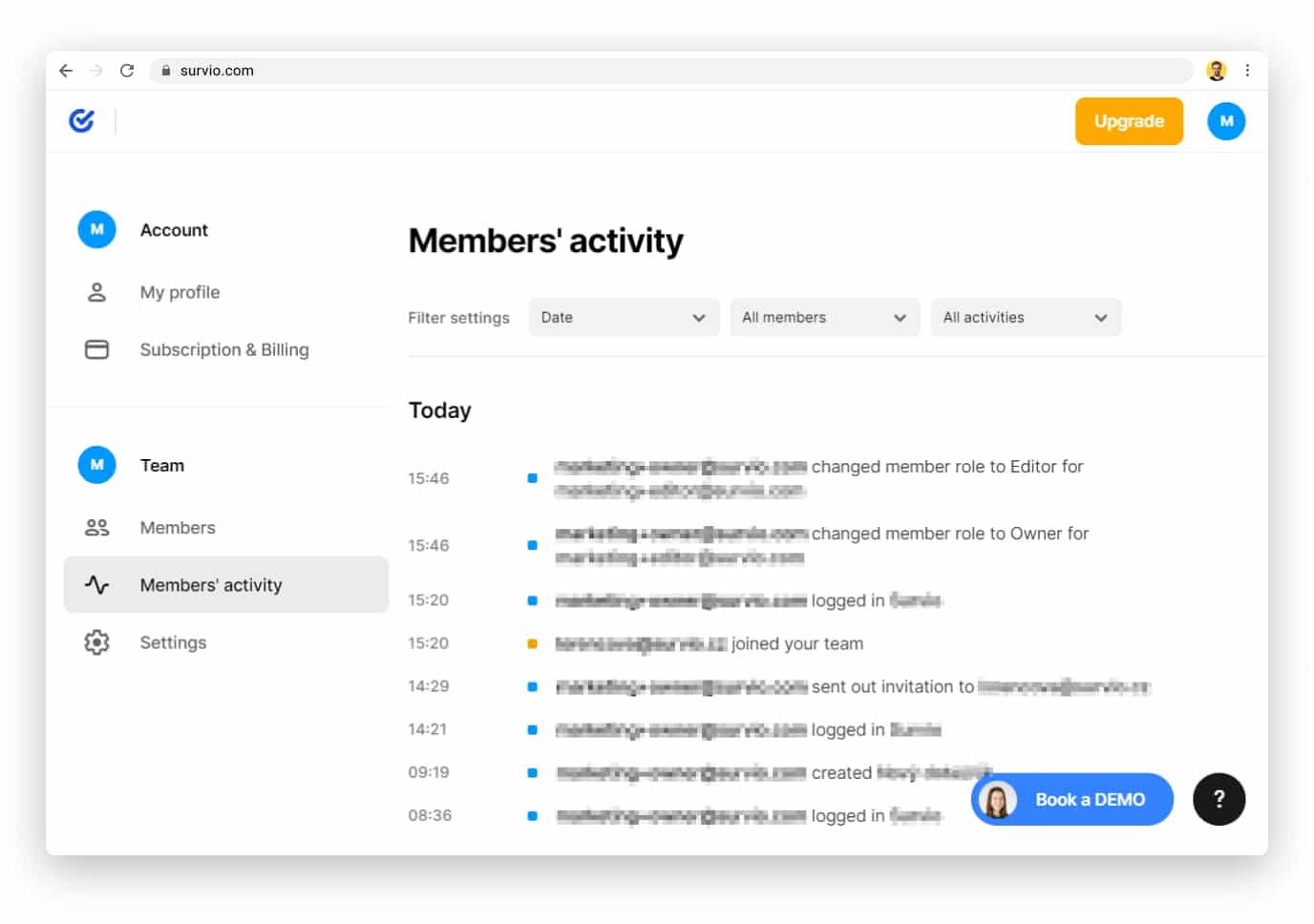 Try Survio in your company as well
Creating questionnaires in the Survio platform is simple, everyone can do it with a few clicks. Implement Survio into your business processes and save time, money and human labour. Want to know more? Check out the web or browse more on our blog. When creating questionnaires, our help is available to you, so you won't get lost. Start creating questionnaires and find out how satisfied your customers or employees really are.

Create your own questionnaire or survey for free
Setting up your first survey is quick and straight forward. Choose from one of 100 predefined templates or create your own from the scratch. Start getting your first responses in 5 minutes.
Create your own survey