We got a valuable inspiration from you thanks to your feedback. So we decided to bring some of these ideas to live. Now you can use a new question type, share your project results on a public page, URL parameters, write your own notes to every survey and recovery of your lost password is now even easier.
Multiple-choice image question
With this type of question your respondents can choose more than one possible answer. We recommend using it when the answers (options) are not excluding each other and when you need to know all respondents ideas.

Webpage for sharing survey results
Disclose collected results (graphs, tables, reports) on a public URL. Share it with your team, customers or respondents easily.
These results can also be password protected for selected group of people. You will really appreciate that it works smoothly on tablets and smartphones.
Demo: https://www.survio.com/p/7i9G_
URL parameteres
With this function you can easily add your own parameters into the URL address of the survey. This allows advanced users:
Identify respondents who purchased anything on your e-shop or took a specific action in your own information system – you will know who answered and how.
Add valuable metadata to all responses (language, country, sex, etc.). Insert information you already have about your clients to your survey so you do not have to ask respondents repeatedly.
Trace the source where your respodnents come from (company intranet, web page, Facebook fanpage, etc.)
Even though it is an advanced feature, you can define custom URL paramaters as easy as you create questions in Survio editor.
Survey notes
Now you can write your own notes to every survey. It will help you distinguish surveys one from another when you have a lot of surveys with the same title. These notes are only for internal identification and use – not visible to your respondents.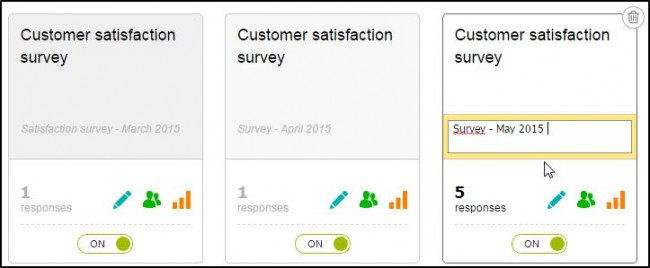 Password recovery
Have you lost or forgotten your password? Now the recovery process is even easier and intuitive. Just send a password recovery request here: //www.survio.com/en/password-reset
When you receive an e-mail, just click on the recovery button and set your new password. And that is all. It is really like that easy!
We believe that these features and improvements will easy your work and that the experience with Survio will be more pleasant for you!
You can send us ideas, feedback and questions from this address: https://www.survio.com/en/contact
Create your own questionnaire or survey for free
Setting up your first survey is quick and straight forward. Choose from one of 100 predefined templates or create your own from the scratch. Start getting your first responses in 5 minutes.
Create your own survey